Gold Foil Nail Designs and Bling Bling Nails Art
Gold sparkles are no longer the only way to add that fabulous bling to your nails. Gold foil has taken the primary spot. Using gold foil is a smart way to make your nails shine! Your nails will look like they have been dusted with 24–karat snowflakes. Once you have a closer look at the nail ideas that we've gathered here, you will understand why gold foil design is so popular at the moment.
If you want to give an illusion of long nails and thinner fingers, we recommend choosing beige colors to add a lengthened effect on your short nails. Beige nails also create an illusion of thin and appealing fingers. Beige is everyone's favorites. Pair them with golden rhinestones, golden glitters, and lines voila your nails are your jewelry.
Nail salon 77494
 | 
Nail salon in Katy TX 77494
With any manicure technique you require for, just add rhinestones to the mix, and you can transform your manicure into a veritable piece of art! Why rhinestones you may ask? First of all, they're basically tiny jewels for your fingertips! What's not to love? They give a touch of shine and glamour to your hands. Plus, rhinestones are incredibly versatile – they can be incorporated in intricate and unusual designs but also look great on simple, classic manicures. Not to mention that they're usually used with gel polish which is a lot more durable, and remains flawless at least twice as long as normal polish.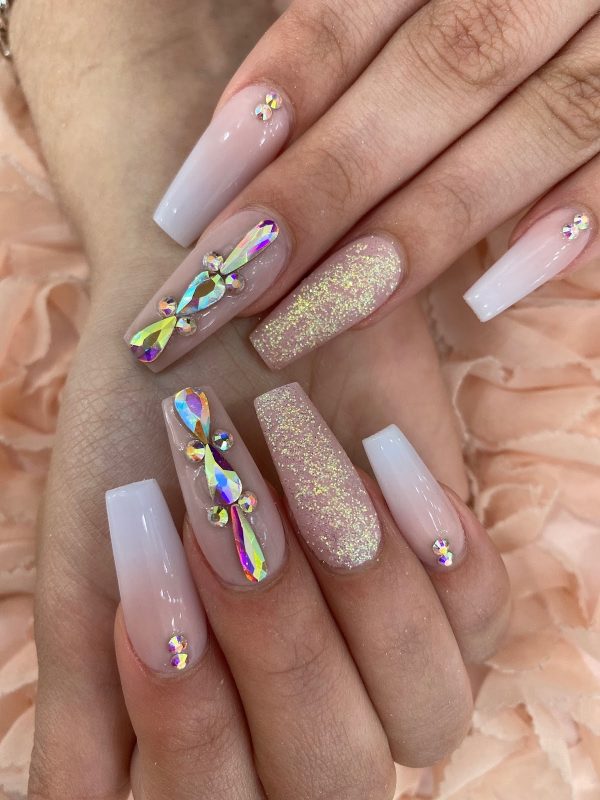 Nail salon near me Texas | Monarch Nails and Spa in Katy | manicure pedicure 77494 | acrylic nails Katy | nail enhancement TX 77494 | professional nail salon Katy 77494 Texas